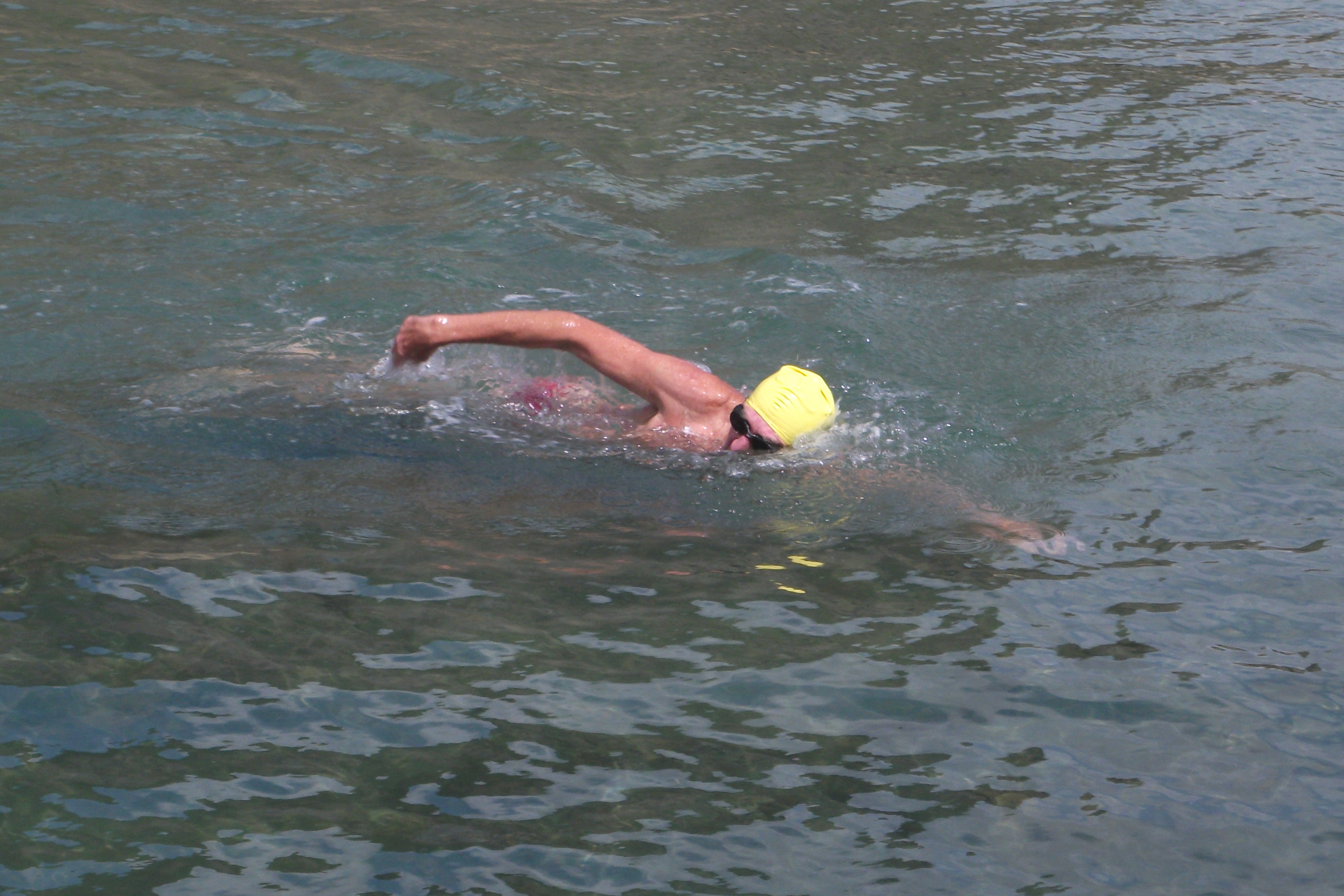 Sea swimming, or wild swimming as it is sometimes known, is an increasingly popular activity. For those of us who've spent the winter months relentlessly swimming lengths of a 25 metre pool, sea swimming is a welcome change with the freedom to explore the coastline, caves and beaches and maybe to find a small beach or cove that is inaccessible by land.
Whilst it is easy to be a competent swimmer in the warmth and safety of a swimming pool, swimming in the sea is very different. It is colder, rougher, there are rocks, waves and currents, visibility is often poor and usually there aren't lifeguards around. If you're swimming front-crawl in anything other than a calm sea, expect to get a few mouthfuls of sea-water! For anyone unused to sea swimming the best advice is to get in some practise on a lifeguarded beach, and in different sea conditions. Acclimatising to the colder water is something that should be done gradually and unless you're an experienced sea swimmer, you should always stay close in to the shore or swim with a boat alongside. It's best to avoid distance swimming in surf conditions, but if you do, try to breathe facing the waves, so you know what's coming!
Kit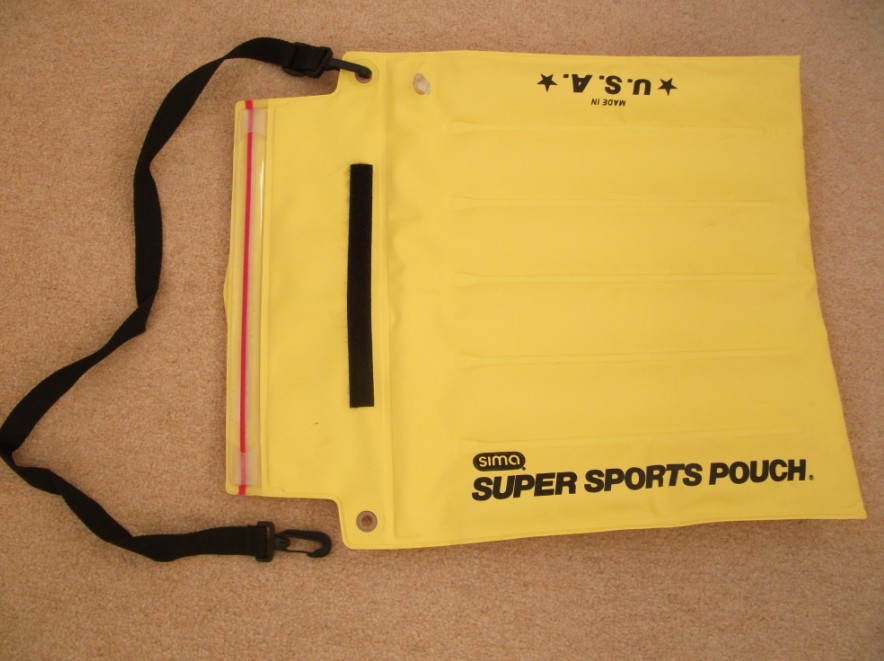 Watertight Inflatable Holdall
You don't need much kit for sea swimming, but a good pair of goggles is essential unless you're only doing breast stroke. Apart from giving better underwater vision, they also help to protect against infection. Speedo or Zoggs are good brands, and one-piece goggles are usually best. A brightly coloured swimming cap is also advisable. This will help to reduce heat loss from your head and also make you visible to other water users, particularly surfers and jet-skiiers. Pink or orange show up best in the sea. If you're swimming close in to shore, this should be sufficient, but if you're swimming where there may be boats, a bright floatation buoy is essential.
To reduce drag, proper swimwear is essential. Surf shorts, or anything with pockets will slow you down. If you're looking for good swimwear, I would definitely recommend the water-polo trunks from turbowaterpolo.com, which are extremely hard-wearing, colour-fast and (unlike shop-bought swimwear) come in a wide range of colours and patterns. If you swim regularly in the sea a wetsuit is a good investment and will allow you to stay in much longer.
A very useful piece of kit if you can get it, is a watertight holdall. The one pictured is a Sima Super Sports Pouch from America which has a watertight seal and inflates. It's big enough to hold towels, shoes, cameras etc and can easily be towed behind as you swim. This avoids having to leave belongings lying around on the shore and allows you to swim between beaches without having to return to the place you set off from. It's not very robust however, and is best only used for this purpose.
Kelp
If you do alot of sea swimming, you'll probably swim into kelp beds sooner or later. It's not usually a problem; you'll probably be within standing depth and if you're confident enough, you can just power through it. If not, just swim breast stroke away from it.
Where and when to go
The best time for sea swimming is on or before the high tide. If this occurs in the afternoon or early evening the sea will be at its warmest, and it's usually when currents are at their weakest. Swimming with a friend is safer then swimming alone, although this is not always possible. Before you set off make sure you know the route, the tide times, where most of the rocks are and suitable exit points in case things don't go to plan. Keep away from points, headlands, man-made structures and surf beaches.
The coastline between Saundersfoot and Tenby is good for swimming at high tide, with plenty of small bays and a few caves to explore. Midway is Monkstone beach, excellent for high tide swimming and both ends of the beach have rocks to swim around or jump off. On Pembrokeshire's north coast, Abereiddy's Blue lagoon is a favourite for coasteering with jumps from the old buildings into the lagoon, whilst Solva and Gwadn also provide relatively safe swimming on a high tide.
If you do embark on a sea swim, be careful not to do anything to suggest you need help (e.g. don't wave to people on the cliff-top), as this may trigger a rescue. If you're planning a long swim with others, it may be an idea to notify the coastguard beforehand.
Beach Fitness & Lifeguard Training
Sandy beaches are excellent locations for some fitness training, especially if you have a partner to train with. The following are some of the many training exercises we used to do as beach lifeguards. If you think you're fit, try these :
Ins and Outs

Place a buoy (an empty plastic container tied with about 10 foot of string to a stone will do) in the sea at just beyond standing depth. Place another marker on the sand approximately 25 yards from the tideline. Then race a few circuits of these markers. The hardest part is running when the water is 2 to 3 feet deep. Lifeguards need to be able to do this quickly.

Sand Sprints

Using stones or piles of sand, mark out the corners of a square with sides about 25 yards long. Jog slowly along one side, then sprint hard around the other 3 sides and repeat. Try for 5 reps to start with, working up to 10. Alternatively, if the beach has sand dunes try a route up and down these - again with a short, easy jogging section. Running on dunes is best done barefoot.

Shuttle Runs

Mark 4 parallel lines in the sand about 10 yards apart. Begin behind the first and run to the second and back, to the third and back then the fourth and back. Repeat as necessary. Adding 5 of an exercise at each line (press ups, tuck jumps, squats) makes it harder.